If the name Darby Pop doesn't sound familiar to you, don't feel bad — for years, the company partnered with IDW and then Magnetic Press to get its books to market. However, thanks to the success of comics like Indestructible and Side-Kicked, Darby Pop is ready to fly solo. In an unprecedented move, Darby Pop is breaking away from IDW and selling its books directly.
To celebrate this momentous occasion, we interviewed Jeff Kline, the esteemed CEO of Darby Pop. Even if his name isn't familiar, you're likely familiar with Kline's work, which includes Transformers: Prime, Jackie Chan Adventures, Extreme Ghostbusters, and much more!
Read on for an in-depth look at the origins of Darby Pop, the trials and tribulations of the comic industry, and a glimpse into the life of Jeff Kline.
TFAW.com: For our readers who may not know about you and your company, tell us a bit about yourself and Darby Pop.
Jeff Kline: I've been a writer/showrunner in TV for more than two decades. Although I've worked extensively in both live-action and animation over the years, my cartoon series – i.e. Transformers: Prime, Jackie Chan Adventures, Men in Black: The Animated Series, etc. – tend to stay on-air much longer than my live-action ones. Much to my Mother's dismay ('cuz, apparently, bragging rights at the salon are limited when a son's output airs in the daytime vs. nighttime). Anyway…
When my daughter, Darby – yes, that's where the name of the company comes from – turned five, my Wife and I opted to leave Los Angeles and move to New England. For the better part of the next six years, I commuted between the coasts every 7-10 days to develop/produce the last three Transformers series, G.I. Joe Renegades and some other bits and pieces for Hasbro. But when my Wife finally grew tired of idling in front of airports, I moved "home" fulltime.
Simultaneously, and as a lifelong comics fan, I had been considering self-publishing a book (which eventually became Indestructible), and made the mistake of telling others re: my plans. Immediately, I learned that a whole bunch of my writer and artist friends in L.A. also dreamed of making comics. Which may strike some as strange, since many people use comics as a stepping-stone to movies/TV. But, the truth is, it can be very hard to "break into" the comics industry even if you have substantial credits in other art forms. Long story short, I decided to revise my plans, and create an entry point for friends, old and new, who are as passionate about sequential storytelling as I am. And Darby Pop Publishing, Inc. was born.
We partnered with IDW Publishing for distribution, becoming their first creator-owned imprint (I believe). Announced our intentions at SDCC '13. Dropped our first floppy (Indestructible #1) in December '13. And have released some 70+ separate issues/trades in the ensuing three and a half years.
"Both IDW and Magnetic proved invaluable insofar as both expertise and credibility were concerned."
TFAW.com: Speaking of IDW, why did you choose now to separate from them?
JK: Actually, we spent about two years with IDW, and then moved our distribution over to Magnetic Press. We were always wholly independent when it came to editorial, but with my experience with the business side of the comic book industry being limited to purchasing floppies from spinner racks, I really didn't want to fly solo at the start. Both IDW and Magnetic proved invaluable insofar as both expertise and credibility were concerned. But, when Magnetic became part of Lion Forge, I realized that Darby Pop now had a team in place that had been together for a few years – Renae Geerlings, Managing Editor; Kristine Chester, Director of Marketing; Michael Berreth, VP of Promotions, etc. – and deserved the opportunity to go it alone. (Well… with the help of Diamond, of course).
TFAW.com: A new start is going to bring a lot of new fans who want to check out your books. If someone wanted to check out Darby Pop, where would you recommend they start?
JK: Start with our website: www.darbypop.com. There you'll find information re: all our titles to-date and those "coming soon." There are also "talent" bios, random musings, our webstore, a brief manifesto, submissions policy, etc. etc.
After that, read Issue #1 of whichever book sounds the most interesting to you. If you hate it, you're probably not going to like most of the other stuff we publish… 'cuz while we cover a lot of ground when it comes to genre and art style, there is a unifying aesthetic – built largely around the triumvirate of high-concept, surprising, and fun.
If you like what you read, then please dig deeper. Visit our Facebook (facebook.com/DarbyPopPublishing), Twitter (@DarbyPopComics), and Instagram (@DarbyPop). Then ask your local retailer to order you one or many of our books. And come see us at any of the 20 or so Cons we set-up at each year (ECCC, C2E2, NYCC, to name a few). Honestly, we like the whole face-to-face thing best, but we understand that not everyone wants my teenage daughter screaming at 'em: "Hey, YOU in the Deadpool t-shirt… what're you reading???"
"I truly believe every one of our books is well-crafted, well-produced, and well worth your time/money."
TFAW.com: Who knows, that just may work! You've mentioned this a few times before that the comics industry is definitely a challenging one. What's the single most challenging thing about the comics industry you've discovered?
JK: I think, for us, the most challenging aspect of the comic book industry is "selling" to two different markets simultaneously. On the one hand, we need to convince comic book retailers to take a chance on us… to stock us even though they might well be dealing with limited resources and even more limited shelf space. On the other hand, we're desperately trying to reach out directly to readers; if they don't go their local store and ask for one of Darby Pop's titles (or order same on Amazon or through ComiXology, etc.), it's nearly impossible for us to compete with the established players and their well-known franchises.
Bottom line: we're a small company with limited resources. I truly believe every one of our books is well-crafted, well-produced, and well worth your time/money. But, chances are pretty good that even some of the folks reading this interview have never heard of Darby Pop Publishing or any of our titles, so…
TFAW.com: Hopefully we're able to help spread the word to our customers, as we definitely think your comics are worth reading! You mentioned earlier that you've worked on numerous Hasbro properties, including being executive producer on the Emmy Award-winning Transformers: Prime. How has your experience in that industry helped you in the comic industry?
JK: Storytelling in television and storytelling in comics is often strikingly similar. In both, you're planning for long-term and short-term story arcs simultaneously… the characters are the bedrock… and the visuals need to work in conjunction with the whole. And being a showrunner in animated TV definitely gave me a leg up for my work as an editor in comics: reworking scripts, collaborating with artists, making choices re: color palette and graphic design, even plotting marketing initiatives.
TFAW.com: What advice can you give to other independent publishers who are trying to make it in the comic industry?
JK: The comics industry is incredibly challenging. As I mentioned, there are some very big, very established players hogging the ball. And having a great idea, or even great execution, isn't enough; you have to find a way/ways to get your work into the hands of those who can and will appreciate it. In my experience – and in comparing notes with other creators/publishers/professionals – you have to be prepared to put in A LOT of unpaid hours, and pay a lot of bills with your own credit card. Honestly, if comics isn't something you're very passionate about, there are probably better, "safer" ways to scratch a creative itch.
""Breaking Into Comics" is a very important initiative to me…"
TFAW.com: One thing you and your company have committed themselves to is helping others break into the industry, such as frequently running contests with the objective of getting undiscovered writers and artists noticed. Has there been any major successes, i.e. someone who won and went on to work in the industry in a larger capacity?
JK: We've run three of our "Breaking Into Comics" contests thusfar; the labors of our most recent winners will be featured in the expanded, reprint edition of the Side-Kicked TPB (Vol. 1.5) we're dropping in July. (The first print run of the Side-Kicked TPB has completely sold out).
"Breaking Into Comics" is a very important initiative to me because I was fortunate enough to have a couple of insanely supportive mentors when I was beginning my TV career, and I firmly believe in paying same forward. While the barrier to entry in comics is low, the barrier to distribution is high. So, if Darby Pop can help some deserving but (relatively) unknown talent get a bit of national or international exposure…
As far as a "success" story: Jeff Marsick won our first "Breaking Into Comics" contest with his script for the Indestructible: Stingray one-shot we published. And we liked working with Jeff so much, we published the trade paperback of his next effort, Dead Man's Party. And we currently have him working on something else for us right this minute.
TFAW.com: Let's say the field is open for you to work with anyone. Who is the one writer and artist you'd love to work with at Darby Pop?
JK: There is no one writer and/or artist I'm dying to work with. We strive to partner with anyone who's passionate… who believes in the value of collaboration… and who won't drive Renae Geerlings absolutely insane when it comes to hitting a delivery schedule.
"…if Simon Pegg and Nick Frost would consider reuniting for Indestructible… my Mother might finally be satisfied."
TFAW.com: Let's dig a bit into Jeff Kline. Outside of Darby Pop comics, what are you currently reading?
JK: When I'm not reading comics, I'm pretty obsessed with biographies. (No, I'm not sure why). Right now, I'm listening to the David Letterman bio in my car while I read Michael Nesmith's (of the Monkees) autobiography late at night.
TFAW.com: If there is one cancelled comic series that you could bring back (from any publisher) what would it be and why?
JK: Dean Martin is my idol; has been (I've been told) since I was a little kid wandering around our micro-townhouse in a bathrobe singing "Everybody Loves Somebody." So, if DC was willing to trust Darby Pop with the license to "The Adventures of Martin and Lewis…" (Are you listening, DC?)
TFAW.com: Comic book movies are huge at the moment. Which Darby Pop title would translate best to a film and who is your dream cast?
JK: I truly believe that any/all of our titles would – and should be – translated to movies and/or TV. But, from a wholly selfish perspective, if Simon Pegg and Nick Frost would consider reuniting for Indestructible… my Mother might finally be satisfied.
(And since the Deluxe reprint edition of the sold-out Indestructible: Not So Much… Vol. 1 Trade Paperback also drops in July it would be pretty painless for 'em both to get up to speed…)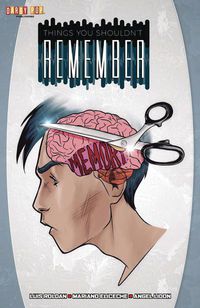 TFAW.com: Pegg, Frost, and Indestructible sounds like a recipe for success! We're excited for the future of Darby Pop and we know you've got a lot of great things on the horizon. Any good teasers that will get our readers excited?
JK: In August we're dropping a sci-fi/horror TP titled Things You Shouldn't Remember. In brief: random people across the U.S. suddenly recall random things – song lyrics, events, minute details – that seem to have been erased from both collective memory and recorded history. Unfortunately, those same people start turning up dead.
In September, we release Bastard's Waltz, a gritty thriller about an aging supervillain and the young Secret Service Agent assigned to protect him. As with all of our titles, Bastard's Waltz both honors and reimagines some classic comic book tropes. And, from an art perspective, it looks like nothing else we've published to-date.
Bottom line: Darby Pop Publishing is a labor of love, not just for me but for nearly everyone who's chosen to work with us. We aren't the biggest. We probably aren't the best. But, I do promise that we care deeply about every, single thing we put our name on. Mostly 'cuz I can't be slapping my daughter's moniker on just ANYTHING. I mean, I'm not a Kardashian.
TFAW.com: Thanks for taking the time to chat with us Jeff!
Do you want to check out Darby Pop's comics? Check out our selection and let us know what you think!
Please follow and like us: