It's Wednesday, and that means there are new comic book releases to talk about! Check out our other New Comic Book Day blog articles to see our thoughts on previous new releases. Be sure to comment or share our post on Facebook or Twitter if you like our articles!
SPOILER ALERT — We try to keep from posting spoilers, but one may sneak through to our reviews now and again. Read with caution, true believers.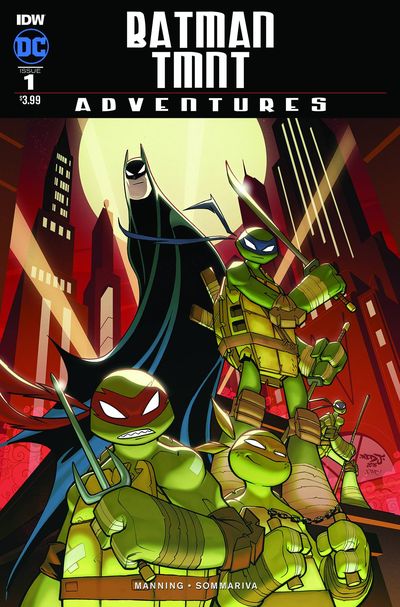 Batman Teenage Mutant Ninja Turtles Adventures #1
By: Matthew K. Manning, Jon Sommariva
Combining my favorite iteration of Batman with the most fun version of the Teenage Mutant Ninja Turtles, Batman/Teenage Mutant Ninja Turtles Adventures gives us the '90s Batman Animated Series combined with the current Teenage Mutant Ninja Turtles animated series. What we get is a great sense of nostalgia, combined with the upbeat sensibilities the Turtles are known for. So basically, a good time.
Matthew K. Manning weaves a plot that sets our two worlds of heroes onto the same case in a way that respects Batman's detective skills and the turtle's penchant for always getting themselves into trouble. Jon Sommariva's art does a great job of combining the very distinctive art styles from both worlds into one that makes it feel like they belong together. Where IDW and DC had these two comic book versions of the characters recently crossover, having the light-hearted and more commercially known versions of these two classic franchises join forces is a great breath of fresh air for the kid at heart. [Mikey N. at TFAW.com]
PICK UP THE COMIC INSPIRED BY YOUR TOY BATTLES
VISIT OUR SPECIAL BATMAN PAGE
VISIT OUR SPECIAL TMNT PAGE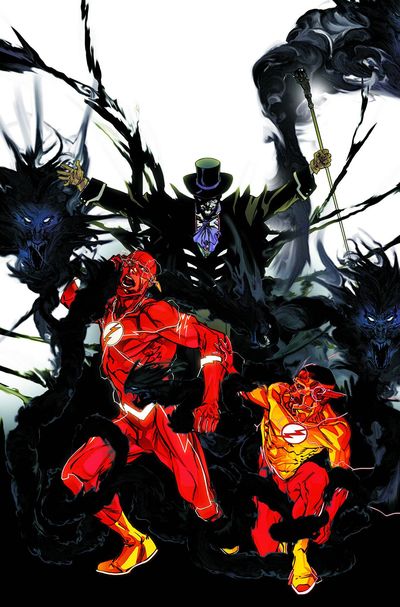 Flash #10
By: Joshua Williamson, Felipe Watanabe, Oclair Albert, Chris Sotomayor, Steve Wands, Carmine Di Giandomencio
Heroics are hard. Having fantastic powers is great, but it doesn't make one a hero. Barry Allen has been training Wally West how to use his powers, but The Flash #7 shows us that there's more to heroics than simply running fast.
Over the decades, The Flash has learned valuable lessons on how to save the people of Central City; he's now using those years of experience and imparting wisdom upon Kid Flash. It's as if Joshua Williamson is distilling decades worth of comics into digestible pieces for a new generation of comics fans.
Williamson introduces two new Rogues, and this story promises to take us to places we've never gone before. I am excited to keep reading. [Josh C. at TFAW.com]
PICK UP THIS ISSUE OF THE FLASH & DISCOVER OTHER GREAT FLASH BOOKS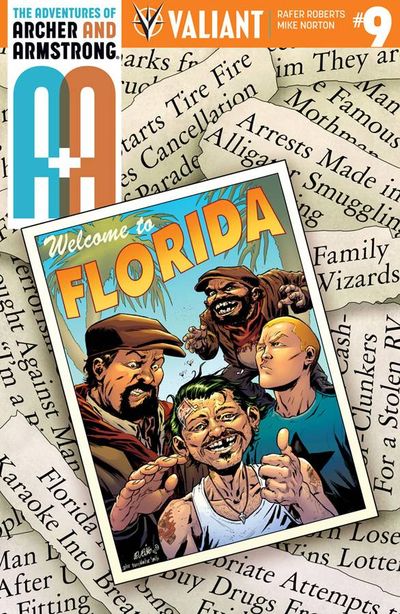 Archer & Armstrong #9
By: Rafer Roberts, Mike Norton, Brian Level
A&A #9 serves as a jump on point for new readers. "Andromeda Estranged" kicks off a new arc that sets our heroes in a history lesson. You see, Earth and humans, they're a strange anomaly within the universe. The "creators," as we learn, didn't mean for us to be created. They tried to steer us in the right direction but greed and power (as it always seems to) corrupted us.
Valiant is known for creating good jumping-on points for new readers and this issue is no exception. Rafer Roberts has been doing an excellent job with this series. Issue #9 is no exception. Penciler Mike Norton and Colorist Allen Passalaqua within the first few pages have a visually striking style that works with the context, (thanks to Ryan Lee) a James Stokoe grit if you will. Once we're back in our world, however, they go to a more familiar style that Archer & Armstrong fans are used to. [Martin M. at TFAW.com]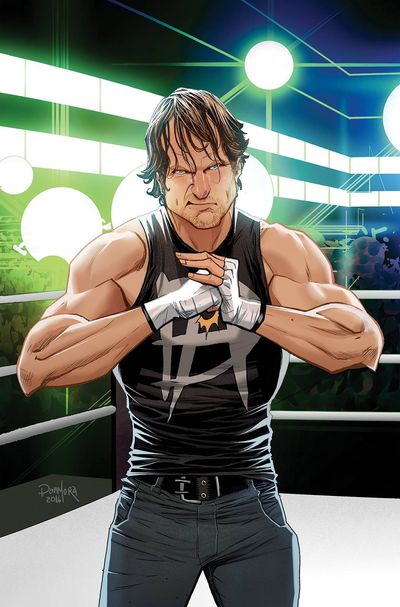 WWE Then Now Forever #1
By: Dennis Hopeless, Dan Mora, Ross Thibodeaux, Rob Guillory, Rob Shamberger, Derek Fridolfs, Daniel Bayliss
As a fan of professional wrestling growing up, I couldn't wait to get my hands on this issue from BOOM! Studios new WWE series. WWE: Then. Now. Forever #1. This is a reader's first introduction to the new comic world that weaves in and out of actual stories from the WWE. This compilation issue collects a story by Dennis Hopeless about Seth Rollins' rise and fall with his team, The Shield. Along with short stories featuring The New Day, Sasha Banks, and Tugboat. This issue also collects the San Diego Comic Con exclusive one-page stories featuring Stone Cold Steve Austin, The Rock, Triple H, John Cena, The New Day, Sasha Banks, The Undertaker, and Dusty Rhodes.
Headed up by a huge list of creators, this book takes the fandom seriously in some stories, has a whole lot of fun in others, and finds itself incredibly inspirational. The heroes, the heels, the over the top performances, and the drama that fans of professional wrestling have come to love and crave are all found here. If you've ever been a fan of any era of the WWE, WWE: Then. Now. Forever is a book for you. [Mikey N. at TFAW.com]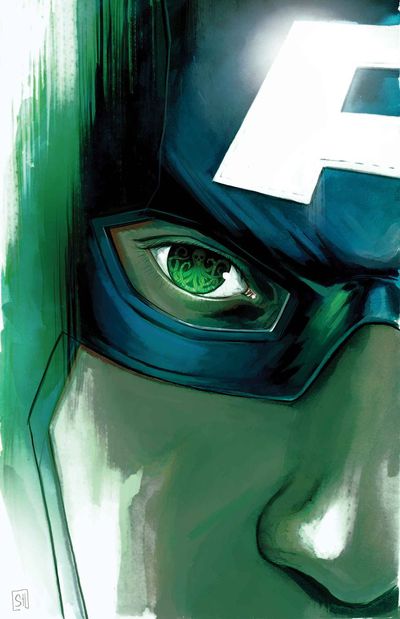 Captain America Steve Rogers #7
By: Nick Spencer, Jesus Saiz, Joe Caramagna, Stephanie Hans
Steve Rogers' reality has been secretly rewritten by a sentient Cosmic Cube known as Kobik. He is now an agent of HYDRA.
That's all the background you need to jump aboard Nick Spencer and Jesus Saiz's Steve Rogers Captain America. Cap is no longer the bastion of freedom and morality; he's been corrupted, and this allows Spencer to explore some important themes that his predecessors never have. Steve Rogers Captain America #7 is the start to a new arc, so now's a good time to join along.
Saiz's art is expressive and emotional, particularly when it comes to depicting the book's tyrants–the Red Skull and the bullies of 1935 that were a part of the machine that gave rise to his HYDRA regime.
I can't help but have optimism about the future of this comic and really, really look forward to getting our Steve Rogers back in the saddle again. [Josh C. at TFAW.com]
What did you think of these books? What should we review next week? Let us know below!
Please follow and like us: