It's a small week for NCBD Reviews. We're looking at The Mighty Captain Marvel and Green Lanterns. As always These are only a small part of what came out this week. Check out our other blog articles so see our thoughts on other books. Be sure to comment or share our post on Facebook or Twitter if you like our articles!
SPOILER ALERT — We try to keep from posting spoilers, but one may sneak through to our reviews now and again. Read with caution, true believers.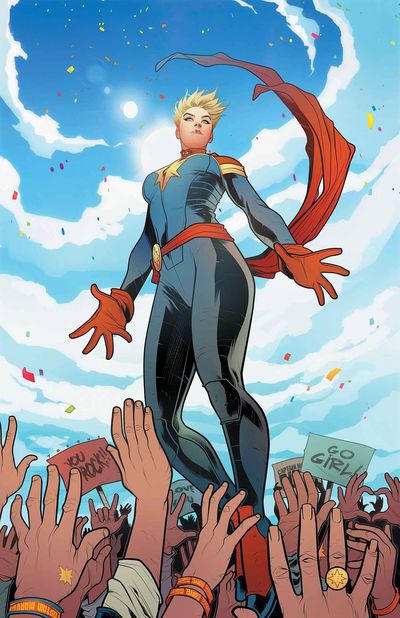 The Mighty Captain Marvel #1
By: Margaret Stohl, Ramon Rosanas, Elizabeth Torque
Back with a new series after the events of Civil War II. Carol Danvers has a lot going on. Running Alpha Flight, a TV Show about her, and of course her non-superhero duties.
Aliens from all over the galaxy are coming to earth for help. One small blue skinned Kree is getting some unwanted attention of some Army Rangers. Carol jumps into action saving the child and finding out that the ranger isn't a ranger. They're a galactic bounty hunter after the Kree child.
With a Captain Marvel movie coming out in 2019, if you're not familiar with her this was a fine jumping on point. Yes, there are mentions of past events, but learning who Carol is at her core is still there. [Martin M. at TFAW.com]
Green Lanterns #15
By: Sam Humphries, Tom Derenick, Miguel Mendonca, Scott Hanna
What do you do when your greatest enemy is yourself? How do master willpower when anxiety and fear haunt your every thought. This stand-alone issue focuses on our newest lantern, Jessica Cruz, as we spend a day in her life trying to manage her chronic anxiety, but still be a hero. Let me just say, it's moving.
Sam Humphries crafts a story that shows how anxiety really works. It's not always the big, Earth ending things, but the little day to day things that tear away at a person's confidence and willpower. It also goes to show that what makes a great Green Lantern isn't being fearless, but the ability to concur your fear. Miguel Mendonca does a great job balancing the subtly of the story, along with the over the top action a series like Green Lanterns demands. I'm especially impressed that with the scenes focusing on panic attacks being more intense than the actual action.
If you're looking for a personal story that really gets to the core of a character, Green Lanterns #15 is it. [Mikey N. at TFAW.com]
What did you think of these books? What should we review next week? Let us know below!
Please follow and like us: