Four comics reviewed this week and all are team-ups! Remember these are only a few comics that came out THIS WEEK! Check out our other blog articles so see our thoughts on other comics. Be sure to comment or share our post on Facebook or Twitter if you like our articles!

DON'T FORGET: SAVE ALL MONTH LONG WITH OUR WE LOVE COMIC BOOKS MAY SALE
SPOILER ALERT — We try to keep from posting spoilers, but one may sneak through to our reviews now and again. Read with caution, true believers.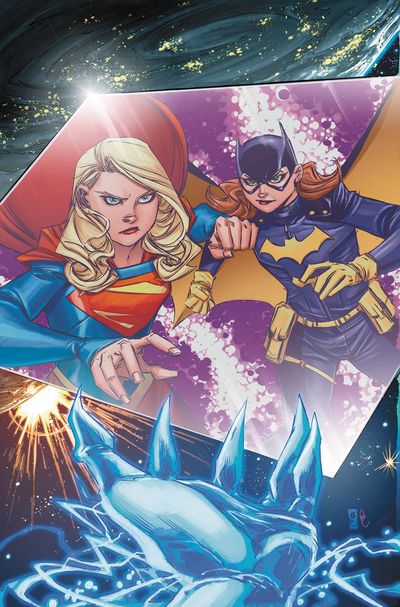 Supergirl #9
By: Steve Orlando, Brian Ching, Michael Atyeh
Escape from the Phantom Zone Part One kicks off an arc that I've been dying to see since Rebirth started. A Barbara Gordon and Kara Danvers team up.
The concept is simple. The Tychotech company in National City is unveiling a new clean energy concept to the world. As Supergirl, Kara has been invited due to her attachment to the technology used. Of course, something goes wrong and the machine goes haywire sending Barbara's friend Ben into the Phantom Zone. Naturally, Batgirl and Supergirl head into the Phantom Zone to find him and get him out.
Writer Steve Orlando did pull off something that I didn't see coming. The villain who turned-on the machine was Magog, who hasn't made a ton of appearances (that I'm aware of) since Kingdom Come. Brian Ching does a good job with this world and has since Rebirth started. Michael Atyeh's colors are perfect for any "Super" book: Nice and bright. [Martin M. at TFAW.com]
MISSED OUT ON THE FIRST 6 SUPERGIRL ISSUES? PICK UP VOL 1 AND GET CAUGHT UP!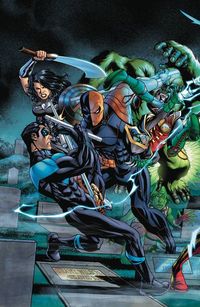 Titans #11
By: Dan Abnett, Brett Booth, Benjamin Percy, Mike McKone
Since the beginning of Rebirth, Titans has always stood at the center of it all thanks to Wally West, the one hero who kickstarted this whole event. With Titans #11 and the first chapter of The Lazarus Contract, Wally and the rest of his team find themselves set to change the DC Universe yet again.
Like all great Titans stories, Titans #11 centers on Deathstroke, who seeks to bring his son back from the dead. Slade believes the key is through Wally West and time travel, which could have potentially devastating effects on the already fragile state of the universe. In particular, the last page of this comic will shake things up in a big way for both the Titans and Teen Titans.
Titans #11 is the start of yet another exciting mini-event for DC Comics and looks to shake everything up once again. The superstar writing team of Ben Percy, Dan Abnett, and Christopher Priest are well on their way to knocking this one out of the park. [Josh P. at TFAW.com]
DON'T MISS AN ISSUE OF THE LAZARUS CONTRACT!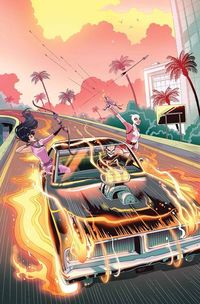 The Unbelievable Gwenpool #15
By: Christopher Hastings, Myisha Haynes, Paulina Ganucheau
Weird team-ups! Hijinks! 4th-wall breaking! It's all here in The Unbelievable Gwenpool! This whole series is nothing but obscure adventures and breaking the 4th-wall, and no surprise, it's been awesome.
Gwenpool's friend is trapped is a gem, and she's working with Hawkeye (Kate Bishop) to help free him. Well, first she's got to get her friend back from Ghost Rider, then save him from the dwarves that want the gem. Then, she has to somehow get him out, all while Ghost Rider does his thing and Kate Bishop a.k.a. Hawkeye, just shoots arrows.
This is a really fun series that you can't take seriously at all: It's zanier than good ol' Deadpool. Less blood and guts, but more wacky fun. [Martin M. at TFAW.com]
SHE'S UNBELIEVEABLE AND NOT OF THEIR WORLD, PICK UP THE ADVENTURES OF GWENPOOL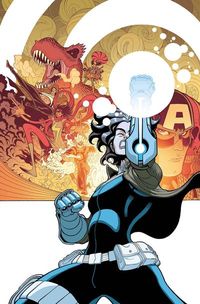 Secret Warriors #1
By: Matthew Rosenberg, Javi Garron, Tradd Moore
i>Secret Empire #1 revealed a shocking truth about the state of the Hydra-controlled world: Inhumans were being rounded up into camps. While this is only touched on briefly in that book, Secret Warriors #1 dives headfirst into the subject.
Writer Matthew Rosenberg assembles a dream team of Inhumans for this latest incarnation of the Secret Warriors, including Ms. Marvel, Moon Girl and Quake. The comic features equal amounts mystery, suspense, drama, and action, and Rosenberg nails all of it. Artist Javi Garron does a fantastic job bringing the characters to life.
If you've read the solicits for Secret Warriors, you won't find any surprises in this book. However, if you're following Secret Empire #1 or you're a fan of the Inhumans, I highly recommend this book due to its strong writing and the impact it's going to have on Secret Empire as a whole. [Josh P. at TFAW.com]
What did you think of these books? What should we review next week? Let us know below!
Please follow and like us:
Never have the words "Hail Hydra" packed more of a wallop than when they are uttered by that star-spangled Avenger, Captain America, in Secret Empire #1. However, that's now the situation facing the Marvel universe in the publisher's latest event.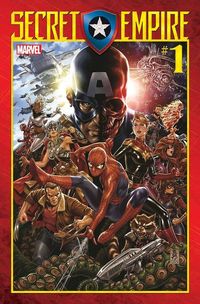 As seen in Secret Empire #0, Cap has engineered the rise of Hydra by trapping most of the heroes in space or in the Darkforce. The book opens with a time skip, showing that Cap's coalition of Hydra forces now control the United States – and have their sights trained on the rest of the world. Only a handful of good guys remain, led by Hawkeye and Black Widow.
Secret Empire #1 Raises the Stakes
In the hands of writer Nick Spencer, this doesn't feel like a typical Marvel event. The rules have changed, and the stakes are higher. The bad guy isn't a bonafide villain like Ultron, Thanos or the shapeshifting Skrulls: it's Captain America. The icon. Our unblemished hero.
Spencer shows his knack for capturing the many characters' essences without reducing them to caricatures. Cap shows his steely resolve, remaining Boy Scout-like even while approving pumping mind-altering drugs into the water supply. Carol Danvers' Captain Marvel displays her bravery in the face of impossible odds. Even Tony Stark's AI self gets into the act, appropriately sarcastic, drunken, womanizing, and even unshaven.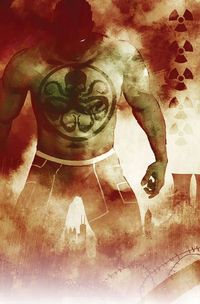 Artist Steve McNiven has his hands full with depicting the new resistance, which includes members such as Viv Vision, Ironheart and the Hulk, battling the forces of Baron Zemo, Dr. Faustus and Arnim Zola.
To cap off the compelling first chapter of this nine-issue series, Spencer hands us a shocking – no, really, it's completely shocking – surprise that will leave fans divided but will compel readers to come back for more.
Long live the Secret Empire!
Secret Empire #1 Is Off To A Strong Start — Make Sure To Order The Remaining Issues!
Secret Empire #1: Marvel Comics, Released May 3, 2017, Written by Nick Spencer; Pencils by Steve McNiven; Inks by Jay Leisten; Colors by Matthew Wilson; Lettering by VC's Travis Lanham; $4.99.
Please follow and like us:
Every year, Free Comic Book Day grows by leaps and bounds. What started as just a few comic companies giving out a handful of comics has transformed into over 15 companies and 50+ comics! With many stores implementing strict limits on just how many books you can pick up, you need to make every choice count.
Luckily, your friends at TFAW have come through with a list of the 10 comics you need to grab this Free Comic Book Day. Why 10? Because that just happens to be the number of comics we generously give at each of our retail locations.
If you're a Portland, Oregon or Los Angeles, Calfornia resident and want to join in on our Free Comic Book Day festivities, check us out on Facebook (Milwaukie , Portland, Beaverton, Universal Citywalk) for all the info you could want about our Free Comic Book Day event, including signing schedules. If you aren't local, keep an eye on our website as we're going to offer a sale you won't want to miss starting on May 6th. Plus every order placed on May 6th will recive a Free Comic Book Day comic at random! (While supplies last)
Want to visit your Local Comic Shop? Visit ComicShopLocator.com to find your nearest Comic Book Store!
Please follow and like us: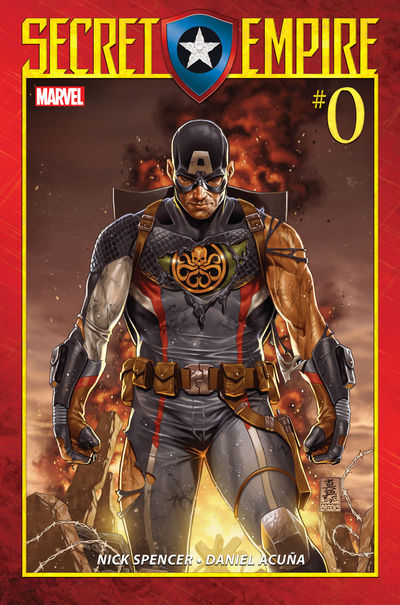 When Marvel first announced that Captain America was a Hydra sleeper agent, I, like many of my fellow comic book fans, was a bit shaken. It seemed like another tactic to quickly boost sales for yet another big crossover event that would "change the face of Marvel as we know it." How many times did we hear that in 2016? Too many.
But as writer Nick Spencer started laying the foundation for Secret Empire in Captain America: Steve Rogers, I began to get more comfortable with this bold new idea. Spencer wrote Cap's new status in a believable way and watching Cap's plans come together was fascinating. The buildup to the event was a slow burn and was akin to watching Rogers play chess on a global scale, as pieces were slowly sliding into place right under the noses of our favorite Marvel heroes. After a few months, I found myself enthralled in the tale that Spencer was telling, gobbling up every issue the minute they hit the comic shop.
"Cap simultaneously at his best and his worst."
After a solid year of buildup, Cap's plan is finally coming to fruition in Secret Empire #0. While most event books start with a bang, this one sees Cap remain calm and collected throughout the entire book. In Secret Empire #0, we see Cap take swathes of Marvel heroes off the playing field group by group as each of his three plans come together. As the book itself tells us, Cap has always been a master strategist; now no longer shackled by morals, this is Cap simultaneously at his best and his worst. I can't wait to see how far he will go when he needs to get his hands dirty and handle the heroes personally.
The art by Daniel Acuna is as excellent as Spencer's writing. Each character's face conveys a broad range of emotion, which is fantastic since there is a lot of emotion on display in this issue. You can feel the fear and despair dripping off the faces of every Marvel hero as they realize the grim reality that awaits them.
Issue #0 is a must-read comic if you're planning on reading Secret Empire. Even if you haven't read any of the issues that precede this event, this still serves as an excellent starting point and quickly gets new readers up to speed. If every issue in this event can match the writing and art of this one, Secret Empire as a whole will end up as one of Marvel's best events.
After nearly everyone called this storyline the worst thing to ever happen to Captain America, it just might end up being the best thing to happen to the Marvel Universe in years.

PRE-ORDER SECRET EMPIRE AND SAVE!
Please follow and like us: