Four comics reviewed this week and all are team-ups! Remember these are only a few comics that came out THIS WEEK! Check out our other blog articles so see our thoughts on other comics. Be sure to comment or share our post on Facebook or Twitter if you like our articles!

DON'T FORGET: SAVE ALL MONTH LONG WITH OUR WE LOVE COMIC BOOKS MAY SALE
SPOILER ALERT — We try to keep from posting spoilers, but one may sneak through to our reviews now and again. Read with caution, true believers.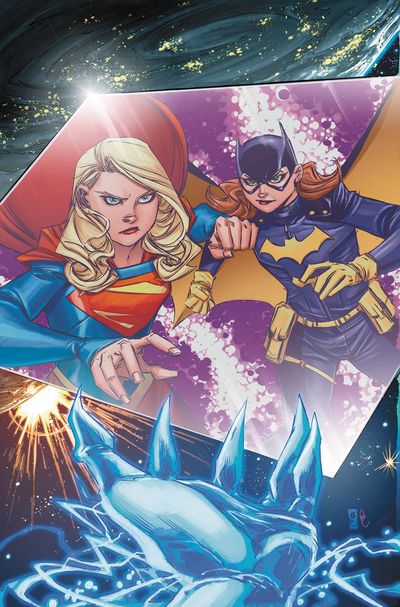 Supergirl #9
By: Steve Orlando, Brian Ching, Michael Atyeh
Escape from the Phantom Zone Part One kicks off an arc that I've been dying to see since Rebirth started. A Barbara Gordon and Kara Danvers team up.
The concept is simple. The Tychotech company in National City is unveiling a new clean energy concept to the world. As Supergirl, Kara has been invited due to her attachment to the technology used. Of course, something goes wrong and the machine goes haywire sending Barbara's friend Ben into the Phantom Zone. Naturally, Batgirl and Supergirl head into the Phantom Zone to find him and get him out.
Writer Steve Orlando did pull off something that I didn't see coming. The villain who turned-on the machine was Magog, who hasn't made a ton of appearances (that I'm aware of) since Kingdom Come. Brian Ching does a good job with this world and has since Rebirth started. Michael Atyeh's colors are perfect for any "Super" book: Nice and bright. [Martin M. at TFAW.com]
MISSED OUT ON THE FIRST 6 SUPERGIRL ISSUES? PICK UP VOL 1 AND GET CAUGHT UP!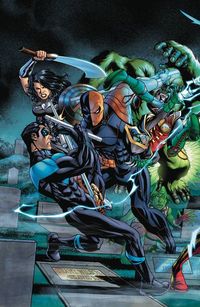 Titans #11
By: Dan Abnett, Brett Booth, Benjamin Percy, Mike McKone
Since the beginning of Rebirth, Titans has always stood at the center of it all thanks to Wally West, the one hero who kickstarted this whole event. With Titans #11 and the first chapter of The Lazarus Contract, Wally and the rest of his team find themselves set to change the DC Universe yet again.
Like all great Titans stories, Titans #11 centers on Deathstroke, who seeks to bring his son back from the dead. Slade believes the key is through Wally West and time travel, which could have potentially devastating effects on the already fragile state of the universe. In particular, the last page of this comic will shake things up in a big way for both the Titans and Teen Titans.
Titans #11 is the start of yet another exciting mini-event for DC Comics and looks to shake everything up once again. The superstar writing team of Ben Percy, Dan Abnett, and Christopher Priest are well on their way to knocking this one out of the park. [Josh P. at TFAW.com]
DON'T MISS AN ISSUE OF THE LAZARUS CONTRACT!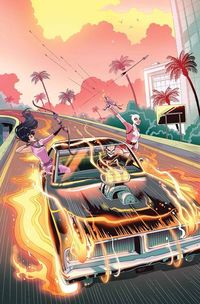 The Unbelievable Gwenpool #15
By: Christopher Hastings, Myisha Haynes, Paulina Ganucheau
Weird team-ups! Hijinks! 4th-wall breaking! It's all here in The Unbelievable Gwenpool! This whole series is nothing but obscure adventures and breaking the 4th-wall, and no surprise, it's been awesome.
Gwenpool's friend is trapped is a gem, and she's working with Hawkeye (Kate Bishop) to help free him. Well, first she's got to get her friend back from Ghost Rider, then save him from the dwarves that want the gem. Then, she has to somehow get him out, all while Ghost Rider does his thing and Kate Bishop a.k.a. Hawkeye, just shoots arrows.
This is a really fun series that you can't take seriously at all: It's zanier than good ol' Deadpool. Less blood and guts, but more wacky fun. [Martin M. at TFAW.com]
SHE'S UNBELIEVEABLE AND NOT OF THEIR WORLD, PICK UP THE ADVENTURES OF GWENPOOL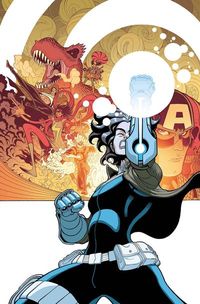 Secret Warriors #1
By: Matthew Rosenberg, Javi Garron, Tradd Moore
i>Secret Empire #1 revealed a shocking truth about the state of the Hydra-controlled world: Inhumans were being rounded up into camps. While this is only touched on briefly in that book, Secret Warriors #1 dives headfirst into the subject.
Writer Matthew Rosenberg assembles a dream team of Inhumans for this latest incarnation of the Secret Warriors, including Ms. Marvel, Moon Girl and Quake. The comic features equal amounts mystery, suspense, drama, and action, and Rosenberg nails all of it. Artist Javi Garron does a fantastic job bringing the characters to life.
If you've read the solicits for Secret Warriors, you won't find any surprises in this book. However, if you're following Secret Empire #1 or you're a fan of the Inhumans, I highly recommend this book due to its strong writing and the impact it's going to have on Secret Empire as a whole. [Josh P. at TFAW.com]
What did you think of these books? What should we review next week? Let us know below!
Please follow and like us:
On the surface, it's a match made in vigilante heaven. The two greatest crimefighters of the 20th century–Batman and The Shadow–have both stricken fear in the hearts of their adversaries for more than 75 years. Both have solved more mysteries than Scotland Yard and the Gotham Police Department combined.
But when they initially meet in Batman The Shadow #1, it's not as bats of a feather, rather as enemies. The two come to blows almost immediately. Mostly because it looks as though The Shadow, who supposedly died of cancer in the 1960s, has returned to Gotham City to kill one of his descendants. Coincidently, the deceased also bears the name Lamont Cranston, just like The Shadow.
Unraveling the Lamont Cranston Mystery
Batman auteur Scott Snyder teams with Steve Orlando to provide the compelling mystery. Neither is a stranger to the Dark Knight. And their fascination with the character continues. However, this time they are tying Bruce Wayne's grandfather, Patrick, into some kind of relationship with Cranston. And the writing pair give Shadow fans something to enjoy as well. Batman interrogates Cranston's known associates–all of whom are well past their crime-fighting prime.
Artist Riley Rossmo is a great choice to draw this six-part limited series. Interestingly, he gives Batman a more rooted feeling, while The Shadow is more ethereal. The result is a combination of Jim Lee and Paul Pope pencils, which is a welcome addition to the Caped Crusader's looks.
If they're anything like the premiere issue, the next five installments should be must-haves. Like Batman yells at The Shadow after their first fight, "Bats live in the shadows."
SEE WHAT HAPPENS WITH THE DUO GOES AFTER THE STAG AND PRE-ORDER BATMAN THE SHADOW #2
Batman The Shadow #1, DC Comics and Dynamite, Released April 26, 2017, Written by Scott Snyder and Steve Orlando, Pencils by Riley Rossmo, Colors by Ivan Plascencia, Lettering by Clem Robins; $3.99.
Please follow and like us:
The first crossover of the Rebirth era has arrived! Night of The Monster Men kicks off in Batman #7. A hurricane is on target to destroy Gotham. Batman calls on Batwoman, Nightwing, Spoiler, Orphan, and Clayface to help him avert disaster and ensure that no Gothamites fall victim to the approaching storm. The forces of nature aren't the only adversaries the Bat family will find themselves up against. As the storm grows near, Doctor Hugo Strange is ready to unleash his army of daikaju on the citizens of Gotham.
Since Tom King took over the flagship Batman series in Rebirth, we've been seeing a lot more of Batman's leadership abilities, mentoring and guiding his team. This welcome theme continues into Batman #7, even though King has taken a back seat to Steve Orlando in this installment. Having Orlando write all of the Monster Men crossover scripts while consulting with the regular writers of the individual titles should lend a nice level of continuity to the crossover itself, but the writing here is noticeably different than King's solo efforts in the series thus far.
Riley Rossmo's artwork has a gritty, throwback quality to it. I probably could have gone my entire life without seeing Hugo Strange's hairy backside, but the Monster Men themselves are exactly what they should be, monstrous abominations. Colorist Ivan Plascencia brings a muted palette offset by flashes of bright color that sets the table brilliantly for the oncoming storm(s).
This first chapter of Night of the Monster Men nicely sets up the second installment, found in Nightwing #5, also released September 21, 2016. Part three can be found in Detective Comics #941, releasing September 28, 2016. Parts four through six will conclude the storyline in Batman #8, Nightwing #6, and Detective Comics #942, all releasing next month.
Batman #7, DC Comics, released September 21, 2016, Rated T, plot by Steve Orlando and Tom King, script by Steve Orlando, pencils and inks by Riley Rossmo, colors by Ivan Plascencia, letters by Deron Bennett, cover by Yanick Paquette and Nathan Fairbairn, variant cover by Tim Sale.
Review by Brendan Allen
Please follow and like us:
This week brought a strong group of comics. For New Comic Book Day, we continue catch up with The Punisher and Daredevil as a conflict comes to a head, jump into the new Suicide Squad series, continue reading Jeff Lemire's incredible Black Hammer series, and check out Supergirl's Rebirth. Remember, these are only a few of this week's new releases be sure to check the TFAW website to see even more. We'd love to know what you think of these books too!
SPOILER ALERT — We try to keep from posting spoilers, but one may sneak through to our reviews now and again. Read with caution, true believers.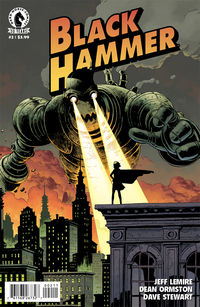 Black Hammer #16
By: Jeff Lemire, Dean Ormston, Dave Stewart
We last left Black Hammer with the whole team meeting up to reminisce their past lives with the hero (and their leader): the amazing Black Hammer.
In this new issue we get to see a glimpse into the background of Gail Gibbons, aka Golden Gail, wherein she was given the gifts of the gods to fight to keep the world safe — or is it a curse? Now Gail, stuck in the body of a nine-year-old, is just trying so hard to get back the powers that she once felt burdened with. We also get to see Walky Talky and The Barbalien trying to get a probe outside the boundaries of the small town that they are trapped in. Also, we get to see a clash with one of their old foes, Doctor Sherlock Frankenstein (best name ever!).
How will this "family" deal with all the troubles of trying to fit into the small town they're stuck in, and what steps will they take to find their way home? Are they even in their universe, or are they in a pocket dimension? Could this be an elaborate trap by a villain from their past?
All that, plus we still don't know the full story of Black Hammer's fate. I'm really looking forward to learning more in the next issue of Black Hammer. [Steve M. at Portland TFAW]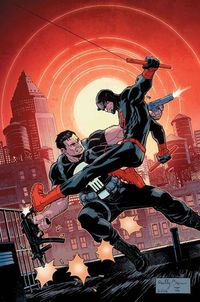 By: Charles Soule, Szymon Kudranski, Jim Charalampidis, Clayton Cowles
Daredevil Punisher #4 completes the "Seventh Circle" story, and it's been a great ride. DD and Punisher have worked together in the past, but they're at odds this time over a gangster named Sergey Antonov. D.A. Matt Murdock is transferring Antonov to Texas so he can get a fair trial, but Frank Castle thinks he needs to be punished for his crimes.
Soule wraps up the Daredevil Punisher miniseries in spectacular form, but I won't tell you how this one ends, folks. What I will say is that it's really great seeing how far both Daredevil and Punisher will take things, given their conflicting convictions. [Josh C. at TFAW.com]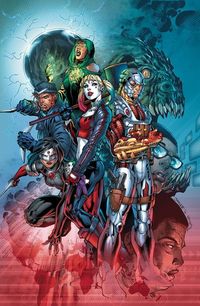 By: Rob Williams, Jim Lee
For anyone who wants to learn more about Suicide Squad after the wonderfully fun movie, you should definitely grab a copy of Suicide Squad #1! The story starts off with Amanda Waller's inner monologue discussing why she assembled the Suicide Squad — she believes that bad can do good, and she's . . . well . . . somewhat right!
The group is sent to retract a cosmic cube in space, and as the group battles motion sickness, Williams provides a flashback of how Deadshot landed right into Amanda Waller's Task Force X. It's a great first issue, and I can't wait to see where this one goes. Pick this issue up before it sells out! [Darcey M. at Universal City Walk TFAW]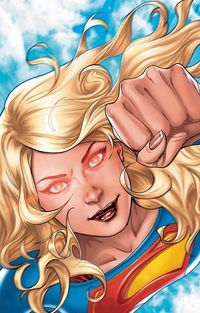 By: Steve Orlando, Emanuela Lupacchino, Ray McCarthy, Michael Atiyeh
Supergirl Rebirth serves as a slingshot for those unfamiliar with Supergirl's past and her place in the DC Universe. The issue starts with a flashback that establishes a potential threat (or possibly ally).
In the new status quo that is the DC Rebirth, Supergirl only recently crash landed on Earth (like, a few months ago recent), and the D.E.O. is trying to make sure she becomes a hero like her cousin, Kal-El. They've assigned full-time handlers Eliza and Jeremiah Danvers to show her the ways of this planet and act as "parents" to her alter ego, Kara Danvers.
I anticipate good things from writer Steve Orlando; we're already seeing strong elements of a family drama for this series and I'm excited to see how Kara adapts to Earth and comes to understand our ways.
Emanuela Lupacchino and Ray McCarthy are already a good pair, and I'm excited to see how they will continue to come together as a team. Their art is similar to that of Terry and Rachel Dodson, and I couldn't think of higher praise than that. [Josh C. at TFAW.com]
What did you think of these books? What should we review next week? Let us know below!
Please follow and like us: