Batman #23 starts off with a bang – two bangs actually.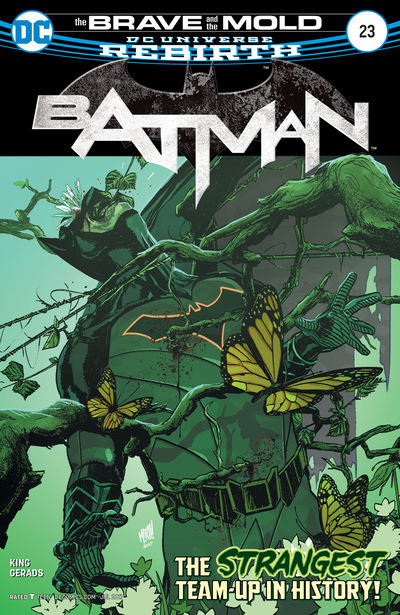 We see a man reciting the lyrics to "My Wild Irish Rose" as he is being shot in the head twice. The man seemingly continues to recite the words after he's died.
The dead man, it turns out, is Swamp Thing's father. The plant elemental shows up at the crime scene as Batman and Commissioner Gordon are trying to figure out how the killer came in through the 86th floor window. The resulting investigation is a superhero team-up for the ages.
However, it takes a close second to the other dynamic duo – writer Tom King and artist Mitch Gerads, the pair behind the critically acclaimed "The Sheriff of Babylon." As with that series, Batman #23 is a tale doesn't disappoint.
Batman #23 Is Swamp Thing's Rebirth
King spins a tight yarn complete with mystery, drama, revenge and a bit of pathos on the side. With his recent work on the book, King is proving himself to be a worthy successor to longtime Dark Knight scribe Scott Snyder. As compelling as the story is, it's Gerads' visuals that bring the story home. His Batman – normally the dominant figure in every panel – is dwarfed by Swamp Thing. It's appropriate since ultimately, it's really Swamp Thing's story.
Gerads shades each chapter with its own color – green when we first see Swamp Thing rising from a small plant, shades of gray as the man is being shot, browns to match the mahogany walls of stately Wayne Manor. It's an excellent visual effect which really adds an extra layer of depth to this fantastic tale.
The surprise ending is every bit as emotional as it is gruesome, leaving nearly every character as a victim. Everyone, that is, except the reader, who will be thrilled with this great story.
Love Batman? Then be sure to check out Dark Days: The Forge!
Batman #23, Marvel Comics, Released May 17th, 2017, Written by Tom King, Art By Mitch Gerads, $2.99
Please follow and like us: