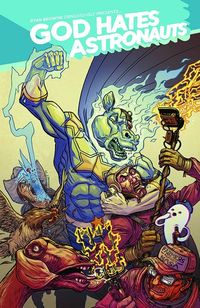 Ryan Browne's God Hates Astronauts is almost impossible to describe: a gonzo superhero parody comic that's visually arresting, hilariously funny, and wildly unpredictable — like Axe Cop for the 18+ crowd. When Browne launched a Kickstarter for his cult hit webcomic in 2013, he exceeded his $15,000 goal by more than 400%, raising $75,770 and publishing the first volume in a deluxe hardcover!
Now he's bringing back his bickering, battling superhero team — brought together by NASA to stop farmers from launching themselves into space — as a monthly series from Image Comics! We had the chance to interview him about what's next for GHA and why you should pre-order the new series right now. Plus, Browne threw in a four-page preview for God Hates Astronauts #1 (NOTE: FOR MATURE READERS ONLY), which comes out September 3!
TFAW: The first volume of God Hates Astronauts featured torrid affairs, bank-robbing owls, ghost cow heads, and lots of other fun stuff. What does the new series have in store for us?
Ryan Browne: The new series is more plot driven and intergalactic in nature. I'm really trying to plan ahead and make this new volume epic in scope, while being as totally stupid and fun as ever. Finally all of the negligent, petty, over-reactionary antics of the Power Persons Five will come home to roost! Also, things will get punched a lot and there will be awfully obvious sound effects.
TFAW: What changes have the Power Persons Five been through since we last saw them?
RB: Well Star Grass and Starrior have a daughter named Starlina. Gnarled Winslow has hi-tech robo-arms, and Dr. Professor is starting to lose his mind. I wanted the new series to be a great jumping-on point for new readers, so the first issue starts with a new chapter in the characters' lives. If you haven't read the first volume that's okay, but if you have you will understand more of the back history of the characters.
TFAW: What made you decide to publish through Image as a monthly series, instead of doing another Kickstarter?
RB: The Kickstarter was the best thing I've ever coordinated, but it was also the hardest. Months and months of running the Kickstarter and fulfilling packages as a full-time job meant that I drew a lot fewer comics last year than I wanted to. Using a publisher lets me focus more on the comic creation rather than the printing and distribution of the book. I love what Kickstarter provides for self-publishers, but after the experience I wanted to get out of self-publishing.
TFAW: There's really no other way to describe God Hates Astronauts than completely, flat-out, over-the-top insane. What are some of your influences?
RB: Yeah that's always been the problem of the book, how do you describe it? My biggest influences are the films of the Coen brothers as well as Die Hard, Robocop, and Aqua Teen Hunger Force. As far as comics go, I draw a lot from The Tick, Scud, and Milk and Cheese. I've always got to throw in there the first seven seasons of The Simpsons and the last few seasons of Mystery Science Theater 3000 as being really important for helping me develop my sense of humor.
TFAW: Obviously, God Hates Astronauts fans will be all over the new series. But what are three reasons a new reader should pick it up?
RB: Well, let me see.
1. It features astronaut farmers who ride horses into battle and use laser-shooting pitchforks against cosmic star bears.
2. It has more space crabs in it than any other book that does not have "crab" in its title.
3. The whole series is narrated by "3-D Cowboy," a ghost cowboy that actually pops off the page in 3-D if you are wearing the proper glasses.
Read the rest of our interview and see a four-page preview (NOTE: FOR MATURE READERS 18+ ONLY) after the jump!
Please follow and like us: