–UPDATE: YOU CAN VOTE FOR YOUR FAVORITE ONCE PER DAY NOW THROUGH 1/14/16!–
Happy New Year from your friends at TFAW! Now that we're in 2016, we want to stop and remember the great books that were released last year. What follows is the third in a series of five Best Comics of 2015 pieces we'll be posting through January 6. Missed the earlier installments? Check out Part 1 and Part 2. Starting January 7, you'll have the opportunity to weigh in and help us crown the Best Comic of 2015!
It all started with DC Comics. Superman. Batman. Green Lantern. The Flash. These are the heroes we've grown up with, and the ones who epitomize what it means to be a hero. DC was dogged by critics and fans this year, but the following comics demonstrate that the publisher still puts out great books month after month.
The Best of DC Comics (in no particular order):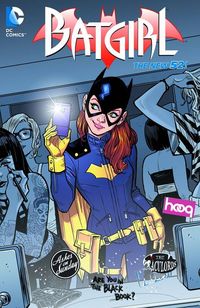 Batgirl
By: Cameron Stewart, Brenden Fletcher, Babs Tarr
I've got to start by giving due recognition to Gail Simone. She's an all-star writer who made me fall in love with Barbara Gordon and her work in the New 52 was solidly in the top of the class. When I first heard that DC brought on a new creative team for Batgirl, I was upset. Really upset. That being said, I cannot recommend the Fletcher/Stewart/Tarr Batgirl series enough.
Cameron Stewart & Brenden Fletcher's take on Barbara Gordon is a revelation. She's more complicated than most of the other heroes in the DCU. She's confident, yet vulnerable. She's a college student, a romantic, a caring friend, a superhero. This series could serve as a great character study in college classes across the country.
Babs Tarr's art perfectly matches the tone of the writing, and suits Barbara's character. It's fresh, fun, and cute (in the best way). The redesigned Batgirl suit is modern, functional, and steps a thousand feet away from hyper-sexualized female costumes we've seen time and time again. Tarr has a great eye for human form and visual perspective. Her consistent attention to detail in each and every panel shows how much love she has for the book and the medium. She's a superstar, and I'm looking forward to following her work in the coming decades. [Josh C. at TFAW.com]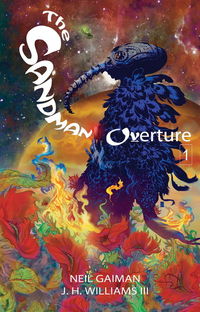 Sandman Overture
By: Neil Gaiman, J. H. Williams III, Dave Stewart
Sandman is back! Neil Gaiman has returned to one of his most beloved creations with Sandman Overture. One of the most anticipated books of the last several years came to its jaw-dropping conclusion in 2015 and is now collected into a hardcover that can join the Sandman collection on your shelf. We finally learn the story leading up to the events of Sandman #1 and how Morpheus came to be in the situation we found him in all those years ago.
Revisiting a classic story is often risky. Comparisons to the original are inevitable and it would be so easy to fall short. Fear not! This is Sandman in every way you could want. Gaiman is able to pick up and dust off his characters as if it hasn't been over 10 years since we last saw them. Reading Sandman Overture feels like going on a strange, new adventure and visiting with old friends at the same time.
Sandman has always been blessed with amazing artists, but J.H. Williams III and Dave Stewart will blow you away! With chameleon-like ability, Williams' style can drastically change depending on the needs of a particular scene. His pages are full of hyper-detailed, realistic panels to psychedelic landscapes (and everything in between) all set in the most unique page layouts we've seen all year. [Jeff B. at Portland TFAW]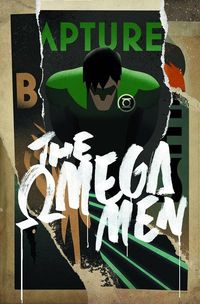 Omega Men
By: Tom King, Barby Bagenda, Toby Cypress, José Marzán, Jr.
When DC announced that Omega Men would end with the sixth issue, fans cried out for more. Even though the series had comparatively low sales numbers, DC decided to publish the rest of the 12-issue run. That was great news for fans and new readers alike, because you don't have to be well-versed in DCU lore to read this series. It's driven by a compelling story with characters I wasn't fully aware of when I started reading it.
Starting off with a death of a well-known character is definitely a way to get attention, and it doesn't happen all that often. After breaking the neck of White Lantern Kyle Rayner, the Omega Men pose an immediate threat to the Lantern Corps. The reader is instantly drawn into the series and we find ourselves trying to figure out where this series is going next. A really great series. [Martin M. at Milwaukie TFAW]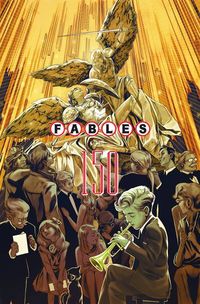 Fables
By: Bill Willingham, Mark Buckingham, Steve Leialoha
Fables has the impossible task of living up to the stories that inspired these characters…and it does so in spades. Bill Willingham never pulled a punch in thirteen years of writing this series. Every character was filled with pathos and gravity. These were weighted characters in a fantastical setting and as a reader you couldn't help but feel every victory, every death, every defeat. Every character had a journey, and a role within the story, and some of these played out over thirteen glorious years.
While Willingham's words were powerful, they were truly brought to life by his partner in crime — Mark Buckingham. He renders every emotion exquisitely. Most of the big name artists and books go for the big splash page, or action sequence and ignore the details. Not Bucky. His strength is in the real character work in each panel. Every character has their own unique expressions and the reader can't help but feel what the characters are being put through. The rest of the creative team also made Fables truly great — Klein's beautiful lettering, Leialoha's inks, etc. Fables is a masterpiece in every sense of the word. No other series can compete with Fables' brilliant thirteen year run. Comics in 2016 is going to be a much darker place without new issues of Fables on the shelves. [Dustin K. at Universal TFAW]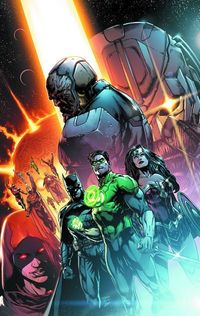 Justice League
By: Geoff Johns, Ivan Reis, Jason Fabok, Francis Mapul
This is what superhero comics are about, and one of the biggest advantages of a shared universe. Massive threats to the entire DCU, heroes coming together to face seemingly impossible odds, epic throwdowns.
Geoff Johns' Justice League has been a thrill ride from day one, and this year's Injustice League and Darkseid War have built on several years of strong storytelling. This is one of DC's flagship titles, and they've put a lot of effort into pairing Johns with artists like Ivan Reis and Jason Fabok to produce one of the best books on the shelves every single month. These guys are all at the top of their game–just crack open an issue and you'll see what I'm talking about.
[Josh C. at TFAW.com]
Honorable Mentions:
Stay tuned to the
TFAW Blog
in the coming days as we'll be posting two more Best Comics of 2015 lists. At the end, YOU will decide which one will be crowned as the Best Comic of 2015!
–UPDATE: YOU CAN VOTE FOR YOUR FAVORITE ONCE PER DAY NOW THROUGH 1/14/16!–
Please follow and like us: