This week's New Comic Book Day Reviews go to Luke Cage, Power Rangers and Harley Quinn. As a reminder these are only a few of the awesome comics that came out this week. Check out our other blog articles so see our thoughts on other books. Be sure to comment or share our post on Facebook or Twitter if you like our articles!
SPOILER ALERT — We try to keep from posting spoilers, but one may sneak through to our reviews now and again. Read with caution, true believers.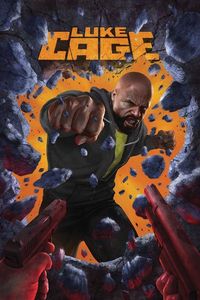 Luke Cage #1
By: David F. Walker, Nelson Blake, Rahzzah
Many writers have tried to write Luke Cage over the years, though most of them have failed to give Cage a voice that is both distinctive and real. Writer David F. Walker has done both in Luke Cage #1, a comic that is one of the best interpretations of the character yet.
From the very first page of the comic, it's clear that Walker is familiar with the character of Luke Cage right down to the soul. You feel the sorrow in Cage's voice when he learns that Dr. Noah Burstein has tragically passed away. You feel the sarcasm in his speech when he fights yet another masked villain. This comic is Luke Cage at its best.
However, it's not all about David F. Walker; Nelson Blake, who does an excellent job on the art, joins him on the title.
Whether you're a brand new fan thanks to the Luke Cage Netflix show or an old school fan from the '70s, you need to pick up Luke Cage #1. The last page alone will have long-time fans of both Luke Cage and Iron Fist squealing with delight, as Walker reaches deep into the Marvel Universe for a special surprise reveal. [Josh P. at TFAW.com]
IF YOU LOVE LUKE CAGE, CHECK OUT THE UPCOMING DEFENDERS SERIES!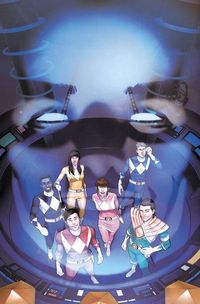 Mighty Morphin Power Rangers #15
By: Kyle Higgins, Tom Taylor, Jamal Campbell, Trey Moore, Goni Montes, Dan Mora, Frazer Irving
Man, we're only 15 issues in, but it feels like so much more time has passed. We've gone way past what happened in the show, straight into alternate timelines where Tommy never broke free of Rita and destroyed the Power Rangers, both our Mighty Morphin' variety and beyond.
This issue tells us where Zordon has been, what he's seen from both timelines and why he still believes in the Rangers, including Tommy Oliver. As a big Power Rangers fan. I can honestly say Kyle Higgens has been doing an amazing job throughout this series. In fact, Boom! Studios and all their Power Rangers comics have been fantastic.
If you are, on any level, a Power Rangers fan, even if you watched only a little bit of the show, then do yourself a favor and pick up this series. [Martin M. at TFAW.com]
GET READY TO GO GO POWER RANGERS WITH BOOM! STUDIOS NEWEST SERIES COMING IN JULY!
Harley Quinn #20
By: Amanda Conner, Chad Hardin
I've been a huge Harley Quinn fan since first seeing her debut on the Batman Animated Series cartoon. I'm also one of those fans that have loved the interpretation that Jimmy Palmiotti and Amanda Conner came up with. If you've read any issue of this run since her reinvention in the New 52, you know what to expect with Harley Quinn #20.
The crazy Harley has once again found herself in a chaotic situation. Harley Sinn captures her friends, her parents are coming to visit, and someone from the future is out to kill her. Harley handles these situations in a way that only she can do, and it's a guarantee you'll crack up at least two or three times in this issue.
The back-up story from Paul Dini and Jimmy Palmiotti is just the icing on the cake. For fans of classic '90s Harley, this issue is worth buying just for this story.
If you're a fan of Harley Quinn, it's likely you're already buying this issue. However, if you haven't yet checked out the zany adventures of Harley, then this comic is a great starting point.[Josh P. at TFAW.com]
What did you think of these books? What should we review next week? Let us know below!
Please follow and like us: