This week's New Comic Book Day Reviews brings us a trio of fantastic comics that you won't want to miss. From DC we've got Trinity Annual #1, Marvel brings us some gamma glowing action in Hulk #6, and last but not least is Action Lab's Spencer & Locke #2.
SPOILER ALERT — We try to keep from posting spoilers, but one may sneak through to our reviews now and again. Read with caution, true believers.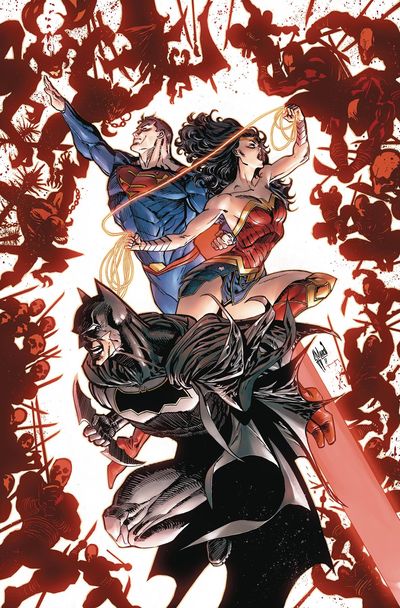 Trinity Annual #1
By: Rob Williams/Guillem March
Trinity Annual #1 is both a standalone story and part of a larger whole, providing an issue that is a great jumping on point and essential reading for longtime readers. Trinity Annual #1 deals with the concept of trinities, exploring the effects that the trinity of Batman/Superman/Wonder Woman have on the DC Universe while also playing with the idea of a dark trinity.
However, the book isn't all theoretical concepts, as we get a fair share of action from guest star Etrigan the Demon. When Etrigan and Jason Blood separate, Etrigan goes on a warpath that takes the combined effort of the trinity to stop him. You won't believe the sacrifice that our heroes make to stop this rampaging demon!
Trinity Annual #1 contains a reveal at the end which brings together multiple DC books, making this comic a must-read if you're following the Rebirth storyline. With great writing from Rob Williams and stellar art from Guillem March, this is one comic you won't want to miss! [Josh P. At TFAW.Com]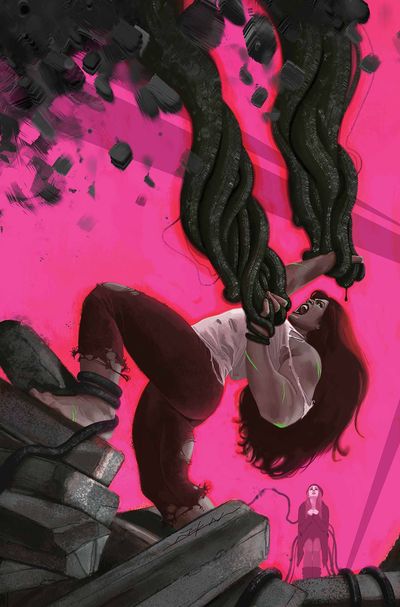 Hulk #6
By: Mariko Tamaki, Nico Leon, Jeff Dekal, Matt Milla
Jennifer Walters has been fighting for a long time, both in the streets and in the court. However, one thing that always stays constant is her fear.
In Mariko Tamaki's sixth issue of Hulk, Jen is fighting a manifestation of her own fear. It's a fight that she must win if she's ever going to save anyone again.
Hulk #6 was a quick read. There is a lot going on here between the panels. The death of Bruce Banner in Civil War II has hit a lot of our heroes hard, and especially those who know the internal struggle he dealt with.
Artist Nico Leon has this great way of making this series stand out. It looks almost one part manga influenced and one part Stjepan Sejic, especially when you add Matt Milla's colors.
Deconstructed Part 6 isn't a great starting point, but it's a solid end to the arc. [Martin M. At TFAW.Com]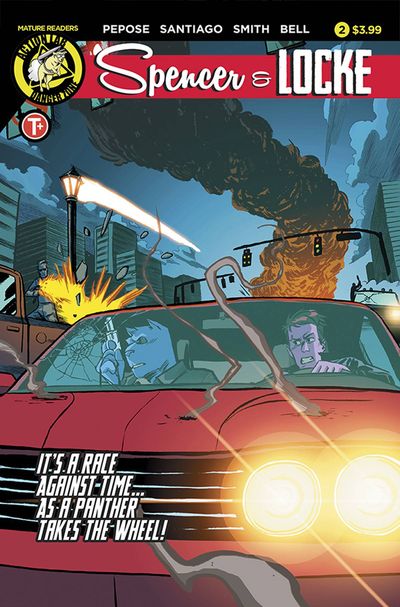 Spencer & Locke #2
By: David Pepose, Jorge Santiago, Jr.
Spencer & Locke #2 picks up right where the first book left off, with Detective Spencer still on the case of Sophie Jenkins' murder. The comic still has the charm and style of newspaper strips like Calvin & Hobbes while retaining the sharp wit and expressive writing style that David Pepose does best.
Issue #2 takes the action and turns it up to 11, featuring bar brawls, car chases, deadly shootouts, and so much more. If you are the type who wonders what Calvin is like as an adult, look no further than Detective Spencer. Even if you're unfamiliar with Calvin & Hobbes, you'll still love the unique style of Spencer & Locke. Since it's a four issue miniseries, the action moves at a steady pace and never drags.
This book is a hidden gem that any comic book fan should read. If you've yet to read Spencer & Locke, do yourself a favor and add it to your pull list today. [Josh P. At TFAW.Com]
LIKE SPENCER & LOCKE? THEN YOU'LL LOVE ACTION LAB'S OTHER COMICS!
What did you think of these books? What should we review next week? Let us know below!
Please follow and like us: