It's a big New Comic Book Day . With the end of Snyder and Capullo's Batman Run, our comic intro to TV's Supergirl, Tommy's seduction to evil in Mighty Morphin Power Rangers, and we dive further into Valiant's 4001 A.D. Remember these are only a few of this week's new releases. Check out our other blog articles so see our thoughts on past books. Be sure to comment or share our post on Facebook or Twitter! SPOILER ALERT — We try to keep from posting spoilers, but one may sneak through to our reviews now and again. Read with caution, true believers.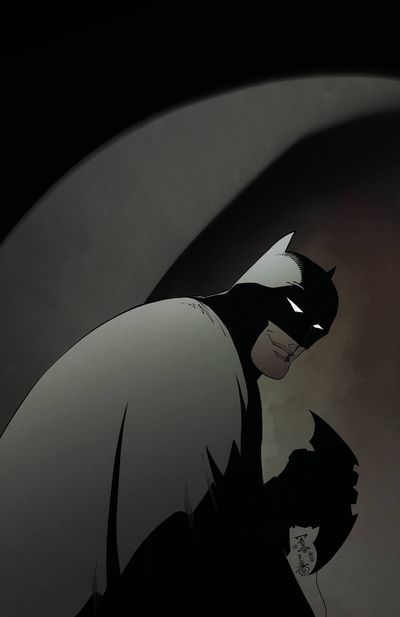 Batman #52 By: Scott Snyder, Riley Rossmo, Greg Capullo
In the final issue of the New 52 Batman, we get insight into the part of Batman's life that we haven't been able to see. We all know what made Bruce Wayne the Batman. Events drove him to be the scourge of the criminal underground in Gotham and the rest of the DCU. In this new issue, though, Batman faces a new villain that is trying to steal one of Bruce Wayne's secrets. It's unsure what could it be–documents of his time as Batman? A list of the Bat-family's identities? Even worse, the identity of other superheroes?–and tension is high until the final emotional pages. In this perfect end to a truly exciting 52 issue run. Which introduced us to the Court of Owls, the amazing events of Year Zero, Joker's return in the terrifying Death of the Family, the "final" battle between Batman and his greatest enemy in Endgame, and his return in Superheavy. This issue shows us what is most valuable to both Batman and Bruce Wayne. Realizing that if disappearing is the first step, this issue shows us what the final step is, too. I can't wait to see what comes next in Rebirth for our favorite caped crusader! [Steve M. at Milwaukie TFAW]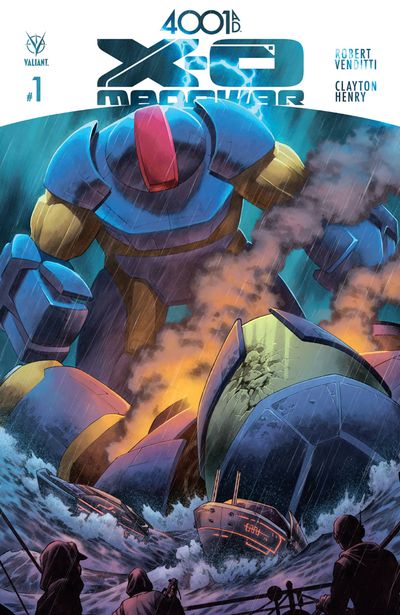 4001 A.D. X-O Manowar #1 By: Robert Venditti, Clayton Henry, CAFU
Set 100 years from now, New Japan launches its new utopian city into the sky causing a shockwave that kills millions. The UN takes a page out of Pacific Rim's playbook and gets to work on weaponized suits of armor to combat the threat of New Japan's devastating and callous A.I. program, Father. What they don't realize is that Father has anticipated and prepared for this. This provides a nice background for Valiant's massive crossover event. Robert Venditti and Clayton Henry find all the right ways to hook readers in. Venditti's dialogue and descriptions are honed in giving the story maximum effect. Henry delivers the chilling imagery of a society putting every resource into one ultimate weapon. This triumphantly builds up the X-O Manowar suits and Father. Two key players in the main 4001 A.D. story. If Valiant's crossover seems daunting to jump into, this book will be a nice way to get your feet wet and get a taste for the stories ahead. Plus, it has giant robots fighting against a flying city while a pink cyber assassin kills people by turning them into binary code. What more could you ask for? [Tim S. at TFAW.com]
Adventures of Supergirl #1 By: Sterling Gates, Bengal, Cat Staggs
If you're familiar with the popular CBS series Supergirl, then you're in for a treat. Since this is a number one, old and new fans will quickly fall in love with this series. This issue gives you a good idea of what type of superhero Kara is, and what her biggest values are. Similar to her well-known cousin, she believes in helping and saving everyone no matter what the cost. Overall, she believes in hope. We start off in the middle of a major fight scene between Supergirl and Rampage. Kara is not going down without a fight. She soon realizes Rampage only gets stronger with each punch she takes. As Supergirl feels like she has won, she is brutally mistaken. Supergirl is knocked out, kidnapped and her sister's life is in grave danger. Kara wakes up in a place she's never been with people that know more about her than she knows about them. Will she be able to save her sister? Will she be able to defeat Rampage once and for all? I guess you have to read Adventures Of Supergirl #1! [Darcey M. at Universal Citywalk TFAW]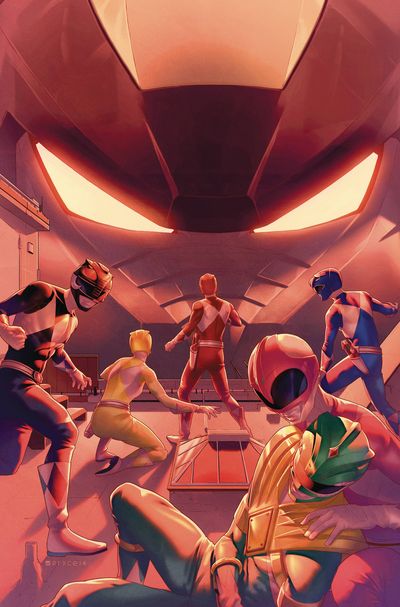 Might Morphin Power Rangers #3 By: Kyle Higgins, Hendry Prasetya, Jamal Campbell
Three issues in already, for me this is a top read, and even now I can't wait for more. Let me explain what's been going on: post-Rita creating the Evil Green Ranger, our gang of Power Rangers saved him. Although Rita still has her witching ways, trying to break Tommy down by manipulating what he sees, hears, and dreams. She's trying to break him, and doing a good job at it. Kyle Higgens is leading me into this new, "updated" version of my childhood. Don't think that I mean it's gritty and dark. It blends the original mythology/charm with the spice of today's storytelling standards. It's incredible & every month I get excited to read it. Don't get discouraged if you never watched Mighty Morphin Power Rangers back in '93. You can very easily pick this series up and connect with these heroes. Boom, Kyle, Hendry Prasetya and Jamal Campbell all do such a good job bringing back this universe. [Martin M. at TFAW.com]
What did you think of these books? What should we review next week? Let us know below!
Please follow and like us: