For our NCBD Reviews this week, we look at two Jeff Lemire books, and Valiant break out a must read #1 with X-O Manowar. Remember to check out all of this week's new releases and take a look at our other blog articles so see our thoughts on other books. Be sure to comment or share our post on Facebook or Twitter if you like our articles!
SPOILER ALERT — We try to keep from posting spoilers, but one may sneak through to our reviews now and again. Read with caution, true believers.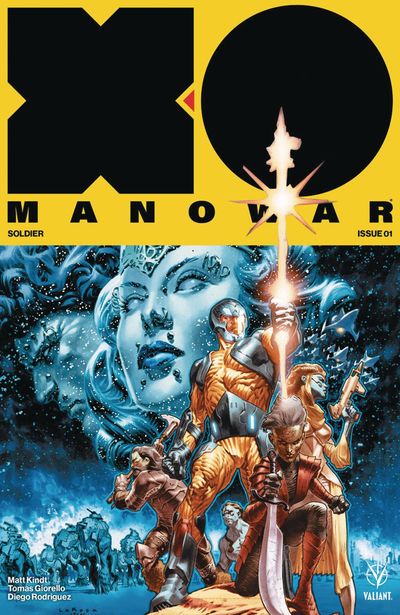 X-O Manowar #1
By: Matt Kindt, Tomas Giorello, Lewis LaRosa
One thing I hear daily around the office is that "You need to start reading Valiant, they are doing some amazing things." I figure there is no better time to jump into the world of Valiant than with X-O Manowar #1, a book that kicks off a brand new story focused on Valiant's top hero.
I was immediately blown away the minute I opened the book thanks to the art by Tomas Giorello. Luckily, the art is matched by a gripping story by the renowned Matt Kindt. Even though the last X-O Manowar story I read was in the '90s, Kindt makes it easy to follow the story even if you don't know anything about X-O Manowar.
Aric, wanting to escape the warfare and carnage on Earth, has fled to another planet to live a peaceful life. However, he ends up conscripted by the local military force and is forced to fight once again. It's a gritty, engaging tale that is a far cry from what I read in 1992 and it is fantastic.
Like all good comics, X-O Manowar #1 ends on a perfect cliffhanger with a moment that will make you pine for issue #2 the minute you see the panel. I know I'll definitely put X-O Manowar on my pull list after this fantastic issue and start paying closer attention to Valiant in the future. [Josh P. at TFAW.com]
YOU'LL DEFINITELY WANT TO CHECK THIS BOOK OUT TOO — ORDER X-O MANOWAR #1 TODAY!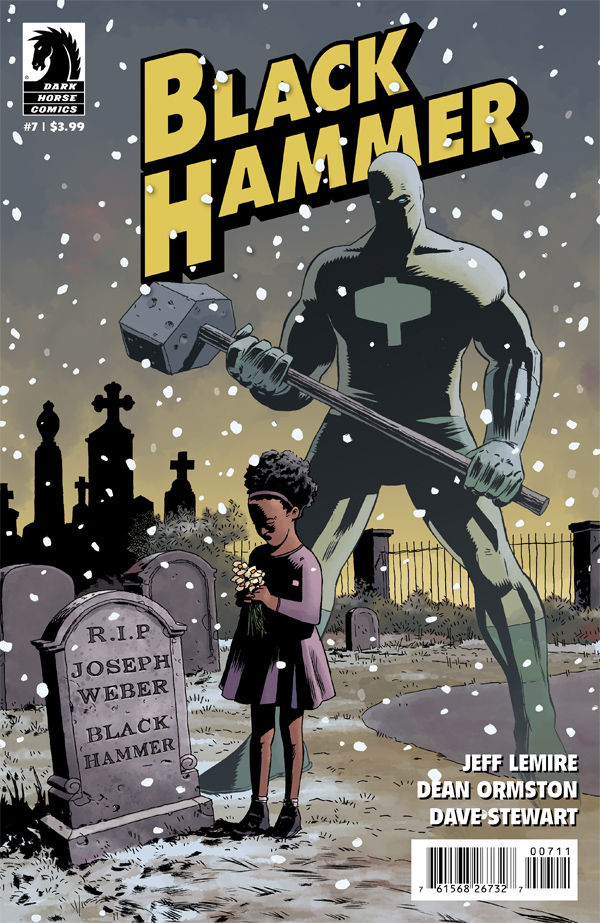 Black Hammer #7
By: Jeff Lemire, Dean Ormston, Dave Stewart
Did you read superhero comic when you were young? Remember all those Jack Kirby Cosmos adventures? Black Hammer will fit right in! This is one hell of a comic series. With crazy superheroes like Whiptara, and Colonel Weird, fighting the Anti-God. This is great throwback to a superhero era long gone. What really great about this series though is, it's really more about characters and their lives then about defeating the bad guy by the end of the issue.
Jeff Lamire proves time and time again how amazing he is at character driven narratives. Along side him in Black Hammer is Dean Ormston doing a fantastic job at spinning the Jack Kirby style. Who can forget Dave Stewart's colors? I know I'm saying this a lot but, the books screams Jack Kirby and I love it! [Martin M. at TFAW.com]
Extraordinary X-Men #20
By: Jeff Lemire, Eric Koda, David Yardin
Extraordinary X-Men #20 is the end of an era and the start of a Resurrxion. With the Terrigen Mists now completely eradicated across the globe, the X-Men are free to leave Limbo and rejoin the rest of the world.
As you'd expect after the frantic action of Inhumans Vs. X-Men, Extraordinary X-Men #20 slows things down considerably. While there is some action, the X-Men themselves are never in any true danger and the action itself is just a means to tie up a loose end. Which is a lot of what this issue does: The comic ties up loose ends and provides a fitting conclusion to the team. It's been rare in the last few years that we get to see the X-Men relax and enjoy themselves, and the last few pages of this comic put a smile on my face as they did just that.
The future for the X-Men is looking up – as Storm herself puts it, "it feels like the end of a chapter… a particularly dark chapter at that." While Jeff Lemire did a fantastic job on Extraordinary X-Men and is is an excellent sendoff, it's the future of mutant-kind that has me excited. While this book isn't necessary reading for those planning on diving into the X-Books with Resurrxion, it serves as a great lead-in to X-Men Prime #1. [Josh P. at TFAW.com]
FINISH THE EXTRAORDINARY X-MEN SERIES TODAY WITH THIS EXCELLENT ISSUE.
What did you think of these books? What should we review next week? Let us know below!
Please follow and like us: